This is Naked Capitalism fundraising week. 574 donors have already invested in our efforts to combat corruption and predatory conduct, particularly in the financial realm. Please join us and participate via our donation page, which shows how to give via check, credit card, debit card, or PayPal. Read about why we're doing this fundraiser, what we've accomplished in the last year,, and our current goal, rewarding our guest bloggers.
Canadian and Australian lenders will be the perfect guardians of people's digital identity, thanks to their high levels of public trust. At least so say the banks.
Australia's "big four" banks — ANZ, CBA, NAB and Westpac — are about to branch into a new line of business: "identity as a service". According to an article published by the Australian Financial Review (AFR), a newly created entity called Australian Payments Plus will co-ordinate the four banks' investments. The move will apparently help them fend off competition from international payments giants moving into digital ID — presumably a reference to Mastercard which has indeed been making big moves in the digital ID space.
A New Revenue Stream
The AFR article says (emphasis my own) that the banks apparently "see 'identity-as-a-service' as an incremental revenue stream that will allow them to charge retailers, utilities or fintechs for validating customer details, given banks are highly trusted in the digital economy". In the words of Australia Payments Plus (AP+) CEO Lynn Kraushe, the service will offer a "seamless online identity verification experience".
AP+ sent out the following message the same day as the AFR article: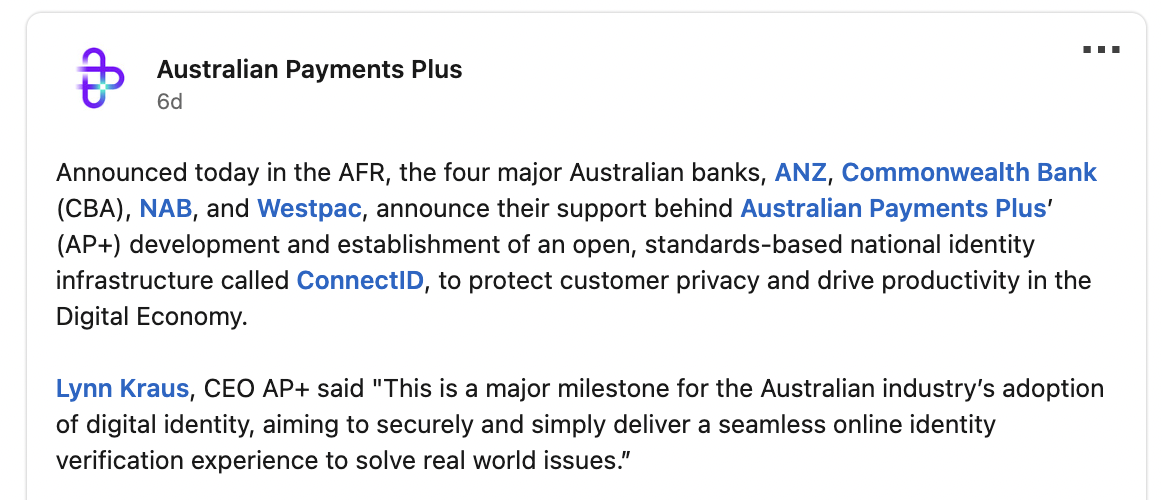 Now, a little bit of background. AP+ was set up in 2021 to bring together Australia's three domestic payment organisations — BPAY Group, eftpos and NPP Australia — under one roof, while apparently allowing them to continue operating as separate businesses with distinct brands under a single Board. So what are these organizations and who do they belong to?
BPAY is an electronic bill payment SaaS company which facilitates payments made through a financial institution's online, mobile or telephone banking facility to organisations that are registered BPAY billers. It is a wholly owned subsidiary of Cardlink Services Limited, which, in turn, is owned in equal parts by Australia's "big four" banks.
EFTPOS (stylized as, "eftpos"), whose initials stand for "electronic funds transfer at point of sale", is an electronic payment system involving electronic fund transfers based on the use of debit or credit cards, at payment terminals located at points of sale. The current members of EFTPOS Payments Australia Ltd include, again, the "big four" as well as a mishmash of international banks (e.g. Citigroup, ING Australia), fintechs (e.g. Paypal) and retailers (e.g. Woolworths).
NPP Australia is an open access system for fast payments set up in 2014. The system's infrastructure was built and is maintained by the 12 founding members of NPP Australia Limited, which include all of the "big four" except CBA, as well as Citigroup, ING, HSBC, the London-based fintech Wise (formerly known as Transferwise), and the Reserve Bank of Australia.
ConnectID is scheduled to launch next year. Already accredited under the federal government's Trusted Digital Identity Framework, its applications could end up extending far beyond the digital payments space. At least that's the goal. According to the website Fintech Australia, the ConnectID team is collaboratively working with governments, businesses, online merchants, banks and other identity providers with a view to building identity into the national payments infrastructure, as well as other commercial applications for all Australians and Australian businesses.
Australia is also heading up the Digital Identity Working Group (DIWG), an eight-country consortium whose mission is to make digital identity a key component of the global digital trade and travel ecosystem. Chaired by Australia's Digital Transformation Agency, the working group's other members are Canada, Finland, Israel, New Zealand, Singapore, the Netherlands, and the United Kingdom.
Where's the Trust?
There are plenty of reasons why this latest development down under should be a cause for concern (and not just for those living down under). Firstly, the idea that Australia's "big four" banks can be trusted to roll out digital identity in Australia is beyond risible. These are the same four banks whose CEOs had to apologize to parliament in 2016 for a litany of scandals including the "mis-selling" of insurance products, interest rate rigging and bank-lending shenanigans aimed at continuously inflating the country's housing bubble.
The resulting Royal Commission into Misconduct in the Banking, Superannuation and Financial Services Industry (RC), set up in 2017, revealed "an epidemic of crime." It also showed the lengths to which the banks were willing to go to sustain Australia's multi-decade housing bubble, which could be in the process of finally bursting…
Read the full article on Naked Capitalism