Mortgage applications spike to record, while 130,000 homeowners are on mortgage holidays, 500,000 on tailored payment plans, and over 1 million are in unmortgageable apartments due to the flammable cladding crisis.
Net mortgage borrowing in the UK hit £11.8 billion in March, the strongest since the series began in 1993, according to Bank of England data. The previous peak was in October 2006 (£10.4 billion), when the UK was in the grip of the pre-financial crisis bubble. The difference between then and now is that back then the economy was about to fall off a cliff, whereas now it has already fallen off a cliff, having last year suffered its biggest drop in economic output in 300 years.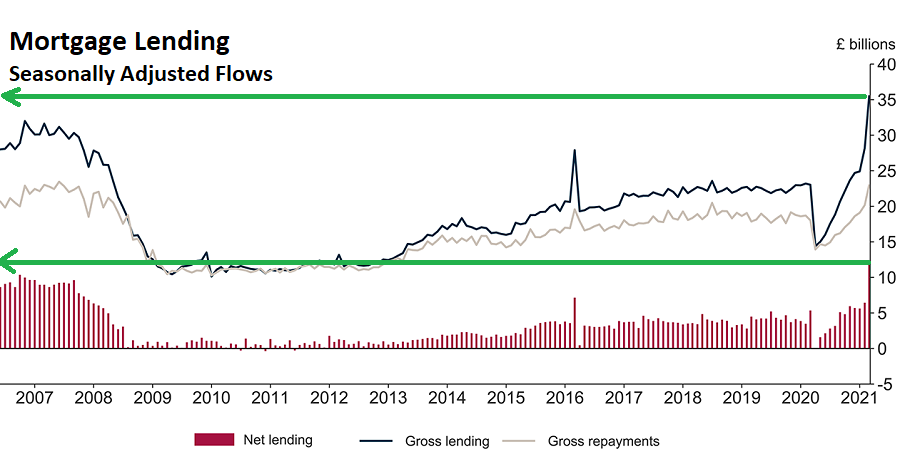 The UK's biggest lender HSBC said it doled out more mortgages in March than in any other month of more than 40 years offering home loans.
There are plenty of reasons for this lending boom, including the ongoing exodus from the cities to the villages of rural England, even as London's population is shrinking for the first time in 30 years, and rents have been falling for 13 straight months.
But home prices are also rising, albeit less steeply, in London and other major cities. In April 2021 Chestertons reported 65% more buyer enquiries in London, 75% more sales agreed and 90% more sales completed than in April 2019. These findings chime with HMRC's latest figures, which show record transactions numbers in March across the UK – up 93% from 2019.
The most important reason for the surging volume of residential property transactions is the support provided by the Bank of England and UK government to property buyers and investors.
In mid-March 2020, as it grappled with the early fallout of the virus crisis, the BoE slashed the UK's base interest rate from 0.75% to 0.25%, then a week later to 0.1%, the lowest ever. The rate cut was in response to the economic stress caused by the shutdown of the UK economy. And the falling mortgage rates have stoked demand for housing.
The government too has pursued policies aimed at inflating the housing market and propping up the mortgage lending industry. First, it introduced a stamp duty holiday that was supposed to end at the end of March but was extended at the last minute til the end of June. This has driven much of the recent surge in new mortgages.
Then, last month, the Chancellor announced the launch of new government-backed mortgages with 5% down-payments. If borrowers default on the mortgages, taxpayers, rather than the banks, will be on the hook.
Continue reading the article on Wolf Street