Against expectations, the feared plunge in remittances, as during the US Housing Bust, did not occur. For interesting reasons. Weirdest Economy Ever.
The total amount Mexico received in "remittances" — transfers of money by workers of Mexican descent mostly in the US but also other countries to individuals in Mexico — surged by 11.4% in 2020 to $40.6 billion, the highest ever, and the eighth year in a row of increases, according to data released by the Bank of Mexico.
This occurred in the midst of a terrible economy in the US, as GDP fell by 3.5% in 2020, the worst annual decline since 1946, triggering a wave of business closures and tens of millions of job losses in the U.S., where 98% of the remittances to Mexico originate. In the wake of the Global Financial Crisis, which was sparked by the US mortgage crisis and housing bust and resulted in a protracted downturn in US housing construction, there was a six-year downtrend in remittances to Mexico, totaling 21%. The opposite has happened during this downturn: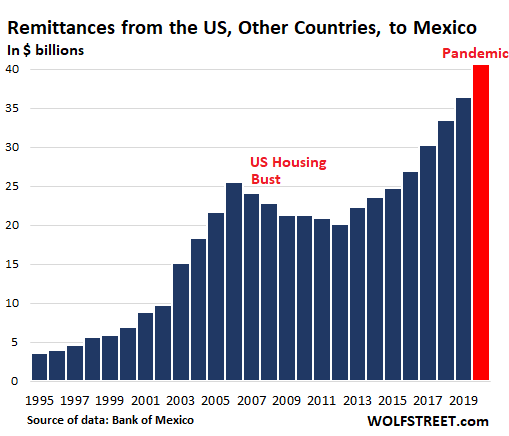 Mexico is the third largest recipient of remittances worldwide, behind India ($83 billion of inflows in 2019) and China ($70 billion), both with populations more than ten times larger than Mexico's.
Now more than ever, the remittances are a lifeline for the country's economy, which shrank by 8.5% last year. As GDP has shrunk, the public debt-to-GDP ratio has surged from 45% to 52%, its highest level on record. Much of this debt is in foreign currency that Mexico cannot inflate away. With the economy in its deepest recession since 1932, many people are now even more dependent on the funds sent by relatives working in the U.S. or other overseas countries…
Continue reading the article on Wolf Street