The "second wave," if prolonged, could cause bad loans to almost triple, to €1.4 trillion, says the ECB.
German banks need to prepare themselves for a sharp spike in corporate bankruptcies early next year, the Bundesbank warned this week in its 2020 Financial Stability Review. It anticipates around 6,000 insolvencies in the first quarter of 2021. While this would be a little lower than at the peak quarter of the Global Financial Crisis, the Bundesbank cautioned that it "cannot rule out that … a lot more companies will go bankrupt than is currently expected."
Although Germany is in the grip of its worst economic contraction since World War 2, fewer insolvencies have been filed this year compared to 2019. This is the result of the weird bailout-and-stimulus economy, and includes these factors:
Banks' broad application of forbearance measures, which has given businesses extra financial leeway;
The roll out of state-backed emergency loans and grants for struggling businesses, large and small, which forms the backbone of the country's €1.3 trillion (so far) stimulus program;
Germany's "Kurzarbeit" social insurance program, which enables employers to reduce their employees' working hours instead of laying them off, picking up government subsidies in the process.
And most importantly, the temporary suspension of bankruptcy-declaration requirements.
Helped along by these measures, the number of firms declaring insolvency in Germany fell 6.2% to 9,006 in the first half of this year from the same period last year, trending at their lowest level in 25 years, even as the economy shrinks at its fastest rate in over 70 years.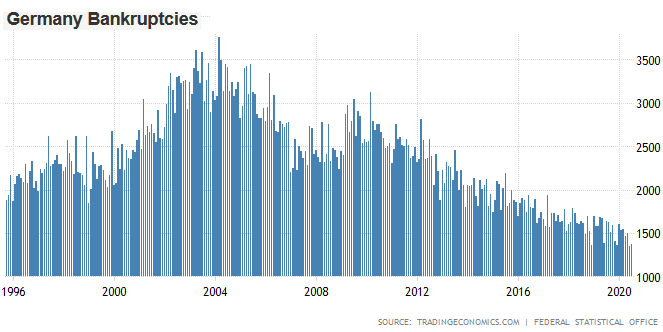 Before the virus crisis, German companies that defaulted on their obligations and had piled up unsustainable debts had to file for insolvency. But that is no longer necessary — thanks to a new law introduced on March 1 that gave struggling companies extra breathing room. The law was supposed to expire on September 30, but, in classic extend-and-pretend fashion, its expiry date was postponed until the end of this year.
This trend has been broadly replicated across much of Europe.
In France, bankruptcies have been consistently falling on a year-by-year basis since 2015. And they've kept falling throughout the virus crisis. During the 12 months through July 2020, the number of insolvencies fell year on year by 28%, to 38,548, according to Banque de France. Even in sectors that bore the brunt of the crisis fallout, insolvencies have fallen sharply. Even the hard-hit travel and tourism sector saw a 28% fall in the 12 months through July.
It's a similar story in Spain, where insolvencies hit a six-year peak of 1,979 in the last quarter of 2019 — testament to the problems the Eurozone's fourth largest economy was already grappling with before this year began. Since then, against the backdrop of Europe's worst contraction yet, the number of insolvencies in Spain has done nothing but plunge, first by 13% year-on-year in the first quarter, and then by 30% year-on-year in the second quarter.
For the moment, there is no official data for insolvencies in Italy, but probably much the same has happened. In all of these countries, struggling companies have hit the wall in fewer numbers than in recent years, and far fewer numbers and than would have been the case if it weren't for all the government and central bank intervention.
That intervention has merely postponed the huge economic pain. How many of the companies benefiting from government assistance, central bank liquidity, and new bankruptcy legislation were already in deep trouble before the pandemic and are in far deeper trouble now?
Continue reading the article on Wolf Street