Leaks about money laundering, a resurgent Pandemic, China risks, exposure to Turkey's financial crisis, all in a negative-interest-rate environment that is toxic for banks.
The Stoxx 600 Banks index, which covers major European banks, slumped 5.7% on Monday, to close at 81.1, just a smidgen above the multi-decade low, of 79, set in March. The last time before March that the index was below today's level was in February 1988, during the sell-off that followed Black Monday in October 1987, when it also slumped as low as 79. The index has collapsed by 85% since its peak in May 2007, after having quadrupled over the preceding 12 years. Here are the wondrous European bank stocks going back to 2007: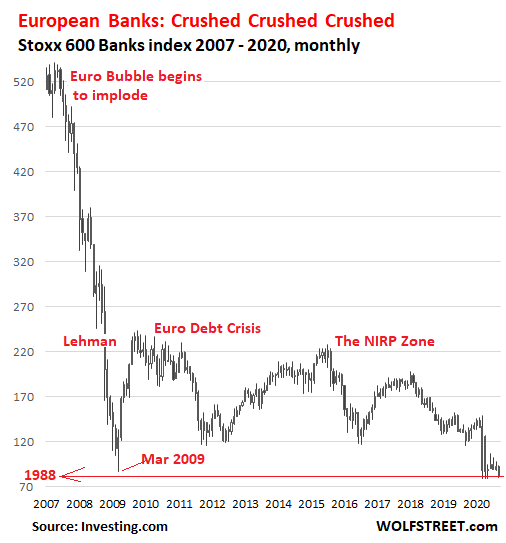 Not even the promise of more industry consolidation, facilitated by shotgun mergers of big, struggling banks with smaller struggling banks, has stemmed the slide of Europe's banking shares. Three weeks ago, Spain's third largest lender, CaixaBank, announced plans to buy majority state-owned Bankia, with money largely provided by the State, to form what will be Spain's largest domestic bank. Spain's MSCI rose only slightly in response and is now lower than it was.
Today, it wasn't just banking stocks that had a rough day. European stocks overall were down by 3.9%, as concerns grow over a second wave of the coronavirus. But banks were particularly hard hit.
One reason for the rout was the release of a report by the International Consortium of Investigative Journalists on lenders that had facilitated $2 trillion in suspicious transactions. HSBC, Deutsche Bank, Standard Chartered, JPMorgan Chase, and Bank of New York Mellon, were implicated. Over almost two decades, the five banks had "enrich[ed] themselves and their shareholders while facilitating the work of terrorists, kleptocrats, and drug kingpins," the report said.
Here's a sampling of how the bank stocks reacted:
ING: -9.27%.
Deutsche Bank: -8.76%
BNP Paribas -6.37%
Santander: -6.22%:
Unicredit: -6.17%
HSBC: -5.26%
Deutsche Bank appears to have facilitated more than half of the leaked $2 trillion of transactions, which were flagged to the U.S. government but rarely read by investigators, let alone acted upon, according to Deutsche Welle. Experts said that some banks treat Suspicious Activity Reports (SARs) "as a kind of get-out-of-jail-free card", filing "numerous reports on the same clients, detailing their suspected crimes over the course of years while continuing to welcome their business."
HSBC is alleged to have allowed WCM777, a particularly pernicious Ponzi scheme, to move more than $15 million despite the fact the business was barred from operating in three states. The scam pilfered at least $80 million from investors, mainly Latino and Asian immigrants, while the company's owner "used the looted funds to buy two golf courses, a 7,000-square-foot mansion, a 39.8-carat diamond, and mining rights in Sierra Leone."
The latest allegations could further complicate Deutsche Bank and HSBC's business in the U.S. Deutsche Bank has already been mired in a host of scandals since the financial crisis: Its front-line role in the subprime mortgage crisis, its manipulation of interest rates, the services it provided Jeffrey Epstein, and its involvement in numerous money laundering scandals.
HSBC's position is fragile, given it has already signed three deferred prosecution agreements (DPAs), an official form of probation, with the U.S. Department of Justice in the past eight years. But patience is running thin, especially since the bank's decision, in June, to embrace the Chinese Communist Party's crackdown on Hong Kong, which prompted U.S. Secretary of State Mike Pompeo to accuse the bank of aiding China's "political repression" in Hong Kong.
Continue reading the article on Wolf Street