Alas, the housing construction bubble burst long before the Pandemic.
Australia's construction industry accounts for 13% of GDP, and for one in ten jobs. It has been on a huge multi-year boom. And it has a huge amount of influence in Canberra. And it's now clamoring for a bailout.
Activity in residential construction started to decline in Q4 2018 and by the first quarter this year, according to the Australian Bureau of Statistics, the value of work commenced had plunged by 25% from the prevailing levels in 2016 through Q3 2018, to A$13.6 billion. This occurred before the pandemic. Q2 data is not yet available, but the industry lobby is now wailing: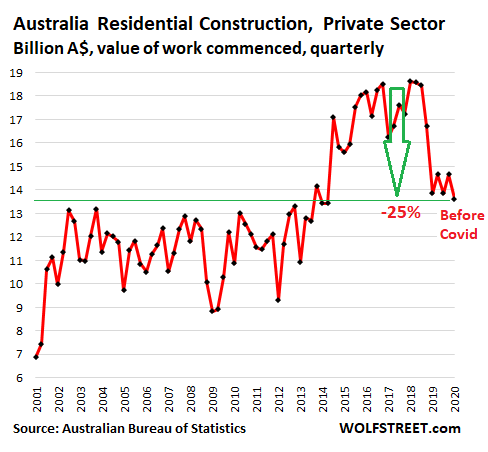 The pre-Pandemic difficulties of the residential construction industry are a result of a confluence of factors, including the housing bubble that led to overbuilding, a reliance on an endless flow of Chinese buyers — non-resident investors and immigrants — that then abated, turmoil in the banking sector due to exposure of widespread mortgage fraud, and the disruptions caused by the extensive bushfires. But then covid came along, bringing with it a whole new world of financial pain, disruption and uncertainty.
For years Melbourne has been the fastest growing city in Australia. Now, it is one of the most tightly locked-down cities on the planet. Since early July most shops, factories and other so-called "non-essential" businesses have been forced to close while the number of staff allowed to work on large construction projects has been slashed to a "practical minimum" of no more than 25% of the normal workforce.
The lockdown is another blow to the city's construction sector. In the second quarter of this year, even before the second lockdown came into effect, there were approximately 15,900 apartments under construction, 12.6% less than in the second quarter of 2019 (17,900), according to JLL's 2nd quarter market commentary.
The Victorian government tried to make up for the shortfall by fast tracking a tranche of projects in June. But most of those projects have been moving at snail's pace since the latest lockdown, as most workers have been stood down.
An even bigger problem is the long-term uncertainty hanging over the economy. Businesses, cities and economies loath uncertainty. For developers, it makes it much more difficult to commit to new projects.
Continue reading the article on Wolf Street