"Everybody's drinking beer as if there were no tomorrow, but my bar can barely survive off beer sales alone," says Yahya, owner of one of my favorite bars.
Tourists from the EU's Schengen countries could begin arriving in Spain from June 21 and Spain's borders were officially opened on July 1. Since then, international visitors have begun returning, in drips and drabs. Most people are loath to fly or travel far from home, in case there are fresh outbreaks or new lockdowns. To compound matters, people from over 100 non-European countries are still banned from traveling to the EU.
In Barcelona, the streets and plazas are still eerily quiet. On Friday, my wife, mother-in-law, and I had dinner on a friend's roof terrace overlooking the mid-section of the Ramblas where the Miró painting is — the exact spot where the truck that mowed down scores of pedestrians in the August 2017 terrorist attack finally stopped. When we arrived, at 8:30, the iconic street, which is normally heaving with tourists, was quieter than normal. By midnight (as you can see in the photo below), it was almost empty. An hour later, as we flagged down a taxi to take us home, there were more beer vendors, prostitutes, drug dealers and pickpockets lining the street than there were punters.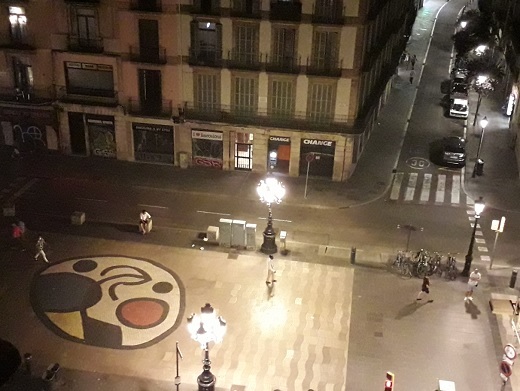 In a July 3 article, Der Spiegel described Majorca as a "ghost island." Long accustomed to being swamped by German, British and other European tourists in the hot summer months, the island is an "oasis of calm", the article says. It's a "long awaited dream for some" and "a nightmare for others."
It was a stark reminder of just how punishing a reality the so-called "New Normal" is for those who carve out a living in the informal economy. But it's not that much better in the formal economy. Just 60 of Barcelona's 440 hotels are open with occupancy between 15% and 20%, compared to over 80% in a normal July.
In 2019, Spain received a record 83.7 million international visitors. This year, according to Expansión, Spain will be lucky to receive 30 million.
In a delicious irony, many Airbnb hosts are desperately trying to rent out their over-priced tourist apartments or rooms to the same local residents they've been helping to price out of the market for the last few years. They're not having much success. In most cases, the rents on offer are insanely high.
In one particularly egregious case, a six square-meter windowless bedroom was initially offered to rent for over €2,000. When there were no takers, the price was dropped to €1,300. Still no takers. It's now being offered at €650, which is still insultingly high for what you get.
In the absence of tourists, most bars, restaurants and cafes are operating at around 50% capacity. Twenty percent of bars in Spain have still not reopened.
Continue reading the article on Wolf Street