Still waiting for the "Pent-up Demand."
Tentative hopes that the UK's housing market would stage a swift recovery in June, the first full month of market trading since the lockdown began on March 26, were dimmed by the Bank of England's latest release of mortgage approval data. Approvals of mortgages to purchase a home tumbled to 9,300 in May, their lowest level on record, from an already unprecedented low of 15,851 in April. They were about 60% below the low point during the Financial Crisis and were down 87% from February, the last month of normal economic activity.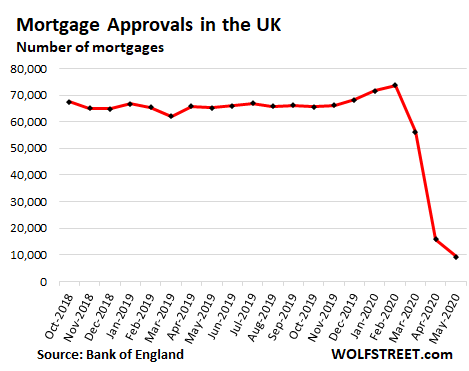 Economists polled by Reuters had expected mortgage approvals to rise to 25,000 in May as interested buyers flooded back into the market. But that didn't happen.
Mortgage approvals are a forward-looking measure for home sales, due to the lag between the approval of a mortgage and the closing of a home sale, suggesting that home sales in June could slow further still, despite any the pent-up demand.
Pricing in June already bent under pressure. House prices in June fell 1.4% from May, seasonally adjusted, after having dropped 1.7% in May from April, according to the Nationwide House Price Index this morning. The index, at £216,403, was down 0.1% compared to June last year, the first year over year decline since 2012, the tail end of the housing bust.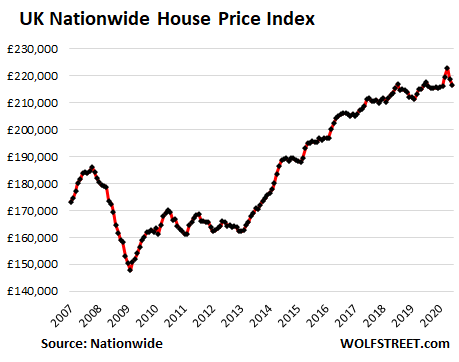 House sales volume, which had collapsed to a historic low in April, rose by 16% in May from April, largely as a result of the lifting of housing market restrictions in England on May 13, according to provisional figures published by HM Revenue and Customs (HMRC). But at 48,450 residential property transactions, sales were still down by 49.6% year-over-year.
Continue reading the article on Wolf Street