Owner of a small cafe that specializes in fine cakes and sandwiches tells me: "We'll be lucky if we get half the normal number in July and August." It's now "all about damage control."
Yesterday, my wife and I took our first walk to the beach since Spain entered lockdown almost three and a half months ago. From there, we meandered through El Born, which together with Sant Pere and Santa Caterina, forms one of the four barrios that make up Barcelona's old town. El Born's shaded cobbled streets and plazas are — or at least were — ground-zero for Barcelona's bustling tourism trade. But that trade has been decimated by the virus crisis, and the streets of El Born are half empty, many of the hotels are still closed and an eerie quiet pervades the once-thronged plazas.
In some parts, there are already visible signs of crisis. As in the darkest days of Spain's last housing crisis (2010-13), boarded-up shops, bars, restaurants and other street-level businesses are everywhere. In one narrow three-block street called Flassaders, I counted nine shuttered businesses. Eight were already up for rent. Here are some samples: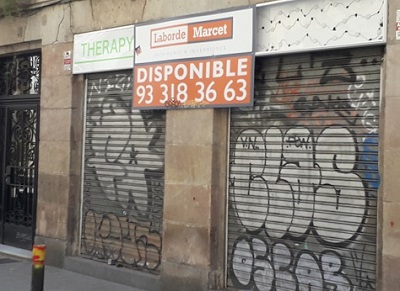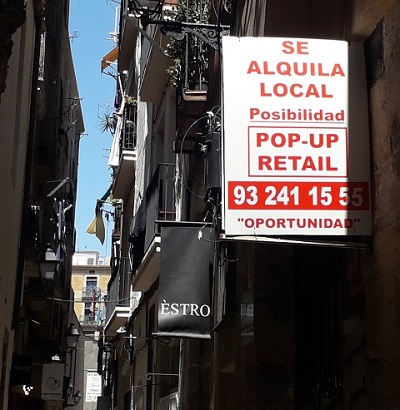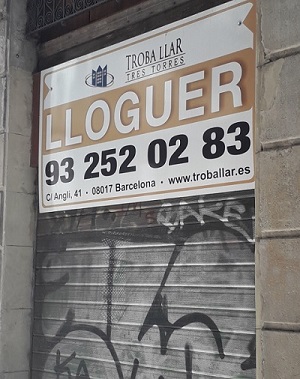 Spain's biggest property website, Idealista, is currently advertising 244 retail properties in El Born, Sant Pere and Santa Caterina. They range from tiny little shops on tucked-away alleyways to sprawling bars, restaurants and stores on some of the barrio's busiest thoroughfares.
After years of relentless gentrification, El Born was already in trouble before Covid arrived. Retail rents had reached levels that many businesses could no longer pay. Petty street crime, much of it targeting tourists, had become rampant, and in some cases violent. And many tourists had begun to explore other neighborhoods such as Gracia and Sant Antoni. The only way for shops and other businesses to pay their rents and still survive was to target big-spending foreign tourists. But now they've gone. And when they come back, it will be in smaller numbers and shallower pockets.
Facing the prospect of continued sluggish sales, many local traders in El Born, rather than taking out more debt to pay their rents, have simply shut up shop. Yet despite the glut of properties on the market, the rents being advertised are still absurdly high, suggesting that many of the property owners — most of them well-heeled local families — haven't quite accepted that market conditions have changed dramatically.
In Spain's last financial crisis, El Born, and Barcelona's Gothic Quarter as a whole, escaped the worst of the fallout, thanks to the rapid recovery and resurgence of the tourism industry. This time, it's the travel and tourism industries that have been sledgehammered by the covid-inspired lockdowns, travel bans and other restrictions, leaving barrios like El Borne and Sant Pere on the front lines of this new crisis.
Continue reading the article on Wolf Street