But auto sales had already dropped three years in a row — before Covid.
The finance divisions of automakers, which dominate the UK's auto finance sector, could soon be in trouble, and the industry lobby is now badgering the government and the Bank of England for a bailout. Some 480,000 drivers have already applied for a three-month payment holiday on their car loan, reports the Finance and Leasing Association (FLA), which adds, "The FLA urges the Government and Bank of England to open up financial support schemes to all lenders, including non-banks, so that they can meet the significant current demand for forbearance and provide new lending when the economy re-opens."
In April, new vehicle sales collapsed by 97% year-over-year, after having plunged by 42% in March, according to the Society of Motor Manufacturers and Traders (SMMT). Unlike in the U.S., British car dealerships are not considered by the government to be essential businesses and had to close during the lockdown that started in late March.
But UK auto sales already declined in the three years before Covid-19. By 2019 sales were down 14% from 2016. For the first four months of 2020, sales are down 43% according to SMMT. Given another 97% collapse in May, as dealerships remained closed, and assuming a solid recovery going forward, WOLF STREET estimates that sales for the whole year will be down around 35% (red line):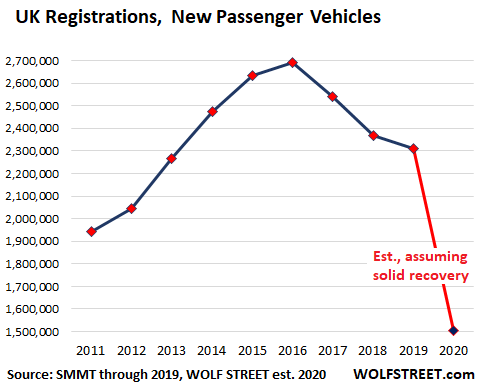 Reasons abound for the UK autoindustry's multiyear decline, including broad consumer distrust of diesels following the endless disclosures since 2015 of industry-wide diesel emissions fraud, and stagnating consumer and business demand in the UK, due in part to the pervading uncertainty surrounding Brexit. Now, there's Covid.
"These figures … make for exceptionally grim reading, not least for the hundreds of thousands of people whose livelihoods depend on the sector," said SMMT's CEO Mike Hawes.
For the UK's auto finance sector, new business volumes in the market fell by 27% in March 2020, compared with the same month in 2019, and by 13% in Q1 2020 as a whole, according to FLA. The finance data for April and May haven't been released yet, but given that auto sales collapsed by 97% in April and by a similar number in May, due to the lockdown, it's unlikely to be pretty.
On Monday, June 1, dealerships will be allowed to reopen. But given the parlous state of the UK economy, with unemployment expected to surge from 3.9% in March well into double figures in the coming months, the demand for new debt-financed vehicles is likely to be weak. Many drivers — including the 480,000 on payments holiday — are already struggling to service their current auto finance arrangements.
Continue reading the article on Wolf Street