The industry exhorts the government to call out "can pay, won't pay" retailers, many of them global brands that avoid paying rent despite their cash reserves.
Until two years ago, Land Securities was the UK's largest listed commercial real estate company by market cap. It owns and manages more than 26.5 million square foot of property on the British Isles. The problem is that much of that property is in the worst possible sector — brick-and-mortar retail — at the worst possible time: now. And it's showing. In its results for its last fiscal year, ended March 31, Landsec posted an £837 million loss — roughly seven times the £127 million loss it posted in the previous year.
The company's shares have fallen 17.5% over the past three days, 48% since February 14, and 62% since since May 2015. Intraday today they traded at 499 pence, a new low, and closed at 521 pence. So the problems didn't just start — but they just got a lot worse. Five-year stock chart via London Stock Exchange: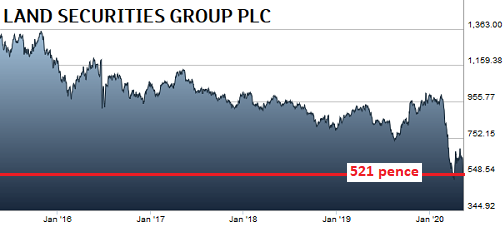 Besides its retail properties, LandSec owns a vast portfolio of London offices — including Deutsche Bank's new London HQ at 21 Moorfields — and specialist assets consisting of hotel, leisure and other properties. Those specialist assets, together with its retail properties, represent about half of the portfolio's total valuation. With the exception of supermarkets and pharmacies, most of those assets have been taken out of action by the UK's lockdown measures.
"Our leisure and hotel assets were generally closed with turnover-related rental income severely impacted," said CFO Martin Greenslade during a full-year earnings call. "In retail, shopping centers remain open for essential trading only and footfall all but disappeared."
A year ago, LandSec's property empire was worth £13.8 billion. Today, it's worth £1.18 billion less. According to property valuers CBRE, £380 million of that write-down can be attributed to the lockdown; the rest is due to pre-Covid-related wear and tear, particularly in relation to the company's retail and specialist assets — those hotels, leisure and other properties. Its retail portfolio lost more than 20% of its value over the last year, with some regional malls down as low as 28%.
By contrast, its office portfolio saw a 1.1% increase in value. But even that line of business faces huge uncertainty going forward. "We have kept our office assets open, but the level of usage is well below 10%," Greenslade said. "Our development program has been delayed as our contractors adapt to implementing social distancing on site."
The company hopes the vast majority of the tenants of its office buildings will keep renting more or less the same amount of space as they have done until now, even as they cut back on staff and keep many of their workers at home. Even so, the company expects a 20% fall in office rents over the next year.
Continue reading the article on Wolf Street