How the Virus Crisis Flipped UK Retail Sales Upside Down.
In the UK, where consumers are generally a sturdy lot when it comes to borrowing and spending, retail sales just had their worst month since records began in 1996, according to the UK's Office for National Statistics (ONS). Sales at "non-food stores" plunged 20.9%. This does not include auto sales or gasoline sales. And sales at clothing and shoes stores collapsed 35.7%. But online sales rose, sales at supermarkets jumped, and sales of alcohol (the drinkable kind) spiked.
Non-food stores are broadly considered non-essential and have therefore been closed since March 23, when the UK's lockdown began. They'd already been through a sharp decline in the second half of 2019, as some large department store chains entered the UK equivalent of a bankruptcy restructuring. This was followed by an uptick early this year. The first half of March was likely in that range. But the lockdown did a job on them. In April, they're faced with near-zero sales: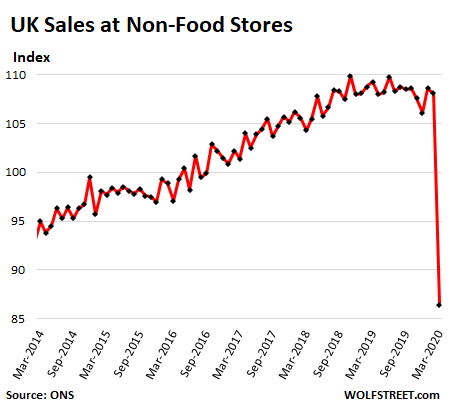 As has happened in many other countries, there was a boom in sales of food and household items at supermarkets, powered by some panic-buying, but also by the shift of consumption from restaurants, bars, cafeterias, work locations, hotels, and the like, to the home. This includes alcohol sales, which spiked 32.6% from February to March.
Sales at food stores, such as supermarkets, jumped by 10.2% from February to March, and by 11.3% year over year: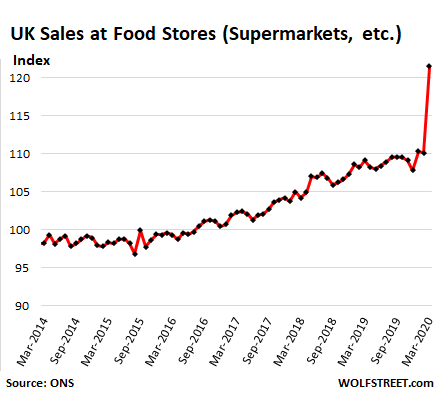 All combined, total retail sales, including online sales, food sales, non-food sales, and sales at gas stations, but not including auto sales, dropped 6% in March compared to the same month a year earlier, the worst decline in the history of the data.
The worst hit segment of the non-food retailers was clothing and footwear, whose sales plunged 35.7% year-over-year. Even by today's standards, when more and more things seem to be going to heck in a straight line, it's a staggering collapse, especially considering the UK's coronavirus lockdown only began on March 23.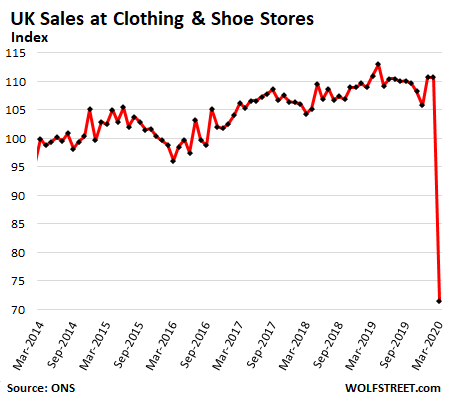 Sales of household goods plunged by 8.9% while fuel sales slumped 23.9% y-o-y as millions of Brits, confined to their homes and estranged from their workplaces, stopped driving. Besides supermarkets, one other outlier was department stores, which clocked up a 2% rise in sales, though according to the ONS a large chunk of these sales were online.
Continue reading the article on Wolf Street