"Some forced selling is highly likely."
Mainland Chinese buyers, who largely drove the luxury real estate boom in Hong Kong, the world's most expensive housing market in terms of affordability, have stopped buying. The number of homes eligible for buyer's stamp duty, which is only paid by overseas or company buyers, mostly from the Mainland, plunged to an unprecedented low of just 42 homes in March, from a record monthly high of 534 in December 2017, according to the city's Inland Revenue Department: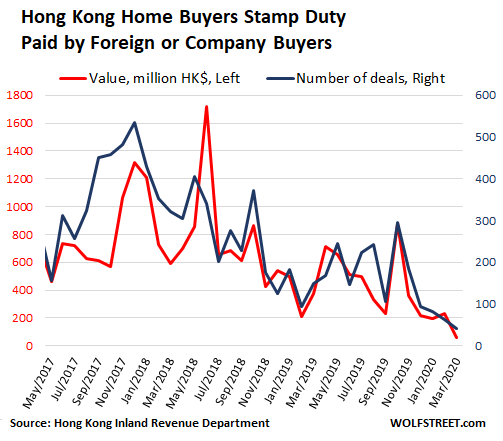 Sales of Hong Kong property to mainland investors have been trending downwards for the past two years or so, largely due to the Chinese government's decision, in late 2017, to crack down on money laundering and illicit capital flows from mainland China to other countries. One of the main targets of that crackdown was money used to fund real estate projects in booming global cities with lax money laundering controls.
Since then, the combined toll of the US-China trade war, Hong Kong's political crisis, and recently Covid-19 has decimated property investor sentiment.
In addition, many Mainland investors are desperately trying to sell those residential properties they have already bought as rental income in Hong Kong slumps and appetite for outbound investment all but vanishes in China. Many of these investors are willing to sell at a sharp discount to offload their property as quickly as possible.
Pummeled by weaker market sentiment, a lack of new launches due to the virus outbreak, and the evaporation of demand from mainland investors, luxury transaction volumes on Hong Kong island tumbled by 44% Q-o-Q in Q1/2020, following a modest rebound in Q4/2019, according to data published by Savills. In Kowloon and the New Territories, which were particularly popular districts among mainland investors, transaction volumes plunged by 50%.
Continue reading the article on Wolf Street