A curious phenomenon
In the United States, as coronavirus concerns grew and state after state went into lockdown, and as consumption plunged and unemployment exploded at a previously unimaginable rate, the amount of physical dollars in circulation spiked to $1.89 trillion, as of the Federal Reserve's balance sheet on April 16, having jumped 9.1% compared to a year earlier.
During the darkest days of the Financial Crisis, the demand for U.S. dollar banknotes spiked at year-over-year rates of over 8% for ten straight months and peaked at rate of 11%. But that was nothing compared to what happened during the Y2K craze, when fears that computer systems would malfunction when dates rolled over in the new millennium triggered a mad rush for US dollar banknotes. In December 1999 the total value of dollar bills in circulation spiked by 16.9% from a year earlier, the highest rate since the war-years of the 1940s: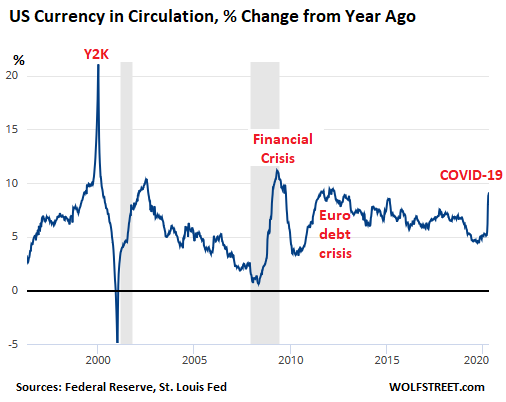 The total value of euro banknotes in circulation in March, as countries across the Eurozone went into Covid-19 triggered lockdowns, increased by €36 billion from February, to €1.31 trillion, according to the ECB. It was the fastest monthly increase since October 2008. And it was up 8.1% from a year earlier. This all happened as consumption in the region slumped to unprecedented levels.
Bank notes denominated in US dollars and euros, the two biggest global reserve currencies, are stashed away in large quantities in other countries with unstable currencies, and they're used to trade certain types or merchandise on the global black market. The euro is also used as currency in some areas that are not part of the Eurozone. And the dollar is used actively in countries that are either fully or partially dollarized. The Fed has estimated that around 70% of 100 dollar bills, which account for nearly 80% of the total value of U.S. currency, are held abroad.
But what triggered this spike wasn't sudden demand overseas. The banking system must be able to provide sufficient currency even during spikes in demand at local ATMs and bank branches, and a sudden spike like this is a sign that local people are hoarding cash during times of uncertainty — with empty shelves at supermarkets having spooked people.
Continue reading the article on Wolf Street