Just how much lower can they go? To Zero. And the ECB's negative interest rates are driving them closer to it.
Over the past three weeks, stocks in Europe have plunged by 22.5%, their worst decline since the collapse of Lehman Brothers. The sell-off has been across the board but the worst of it has been reserved for the banking sector, whose shares have been relentlessly crushed and re-crushed for 13 years.
On Monday, the Stoxx 600 Banks index, which covers major European banks, plunged 13%. Today, after a knee-jerk bounce-back that then fizzled, the index closed essentially flat, back where it had been in March 2009. It has collapsed in a nearly straight line by 32% since February 17, when this latest Coronavirus-triggered sell-off began, and by 49% since January 24, 2018: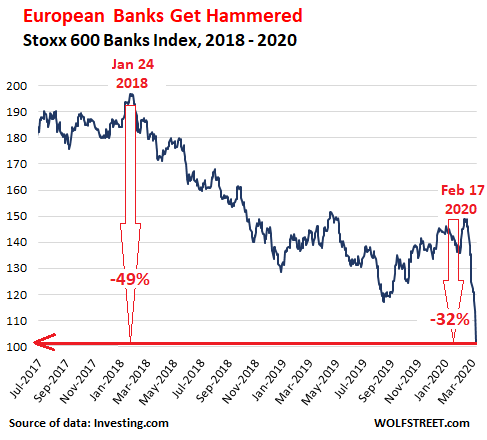 But it's even worse: The Stoxx 600 bank index has collapsed by 82% since its peak in May 2007, after having quadrupled over the preceding 12 years. It was the frenzied height of the euro bubble and the sky was supposedly the limit for Europe's biggest banks. Things got so crazy that for a brief moment in 2008, before it all come tumbling down, the Royal Bank of Scotland, now bailed-out and majority state-owned, was the world's biggest bank by assets.
Here's how far the shares of Europe's largest publicly traded banks by assets fell on Monday (and in parentheses: at today's close, since February 17):
HSBC (UK): -4.82% (-17%)
BNP Paribas (France): -12% (-33%)
Credit Agricole (France): -16.9% (-42%)
Deutsche Bank (Germany): -13.6% (-38%)
Banco Santander (Spain): -12% (-30%)
Barclays (UK): -9.81% (-32%)
Société Générale (France): -17.65% (-41%)
Lloyds Bank (UK): -8% (-24%)
ING (Netherlands): -14% (-37%)
Today, banks in Northern Europe rebounded a tad from yesterday's lows. But banks in Italy and Spain, having started the day in the green, closed with some big drops:
Unicredit (Italy): -3.6% (down 10% from intraday high)
Intesa (Italy): -2.5%
Banca Monte dei Paschi di Siena (Italy): -6.3%
Banco Sabadell (Spain): -7.1%
Santander (Spain): -1%
Banco Sabadell's shares have collapsed to a record low of €0.55, down 50% so far this year. Many in the industry are now saying that it is toast and will probably be merged with Bankia, which itself has lost over 40% of its market cap so far this year, and is still mostly owned by the state, which had created Bankia by lumping a gaggle of failed banks into one big lump during the Spanish financial crisis, and then floated some of its shares in a misbegotten IPO.
Three of the biggest sell-offs over the past three weeks were endured by France's three largest lenders: BNP Paribas (-33%), Credit Agricole (-42%), and Société Générale (-41%).
These declines in share prices, while impressive for both their speed and size, represent just one more leg down in the relentless sell-off that began in May 2007 and has dragged the Stoxx 600 82% lower, to just below where it was in January 1988.
Continue reading the article on Wolf Street