President AMLO put it this way: "There may be no growth but there's development and well-being, which are different."
For Mexico's economy, 2019 was not a good year. The country entered a mild technical recession in the first half and by the end of the year had registered its first annual decline in GDP since 2009. According to a preliminary estimate published by Mexico's statistical institute INEGI, "real" GDP (adjusted for inflation) for the year 2019 declined -0.1%: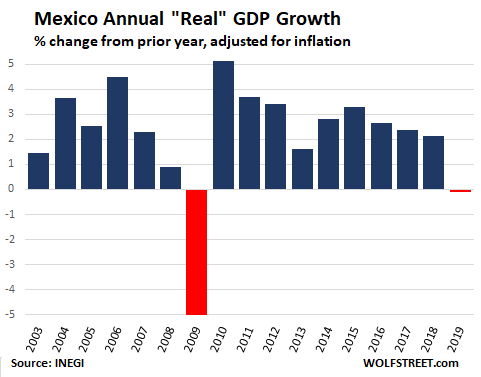 In the fourth quarter, "real" GDP declined 0.3% compared to the same quarter a year earlier, making it the third quarter in a row of year-over-year declines: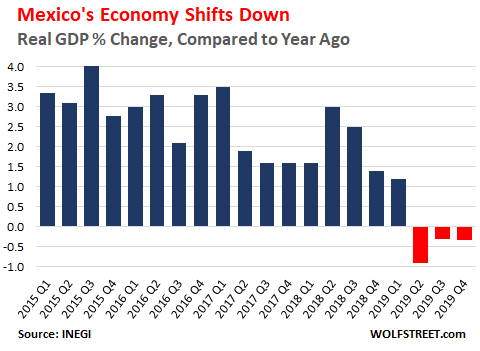 The biggest drop was in the secondary sector — manufacturing, mining and construction — which contracted by 1.8% in 2019, its weakest performance in over five years. Particularly hard hit were automakers which saw new vehicle sales in the domestic market slump 7.5%. The current global slowdown in auto demand also took its toll, with total auto exports falling by 3.4% to 3.3 million units in 2019, the first annual decline since 2009.
Manufacturing exports as a whole, which represent 90% of all Mexico's exports, increased by 3.4% to reach $410 billion. This helped to cushion the blow of a 15% plunge in petroleum exports, to their lowest level in 40 years — the result of two main factors, according to analysts in the sector: the Mexican government's decision to prioritize sending domestic crude to domestic refineries as opposed to exporting it; and reduced demand from Mexico's biggest buyer of oil, the United States.
Despite all of this, total exports from Mexico still managed to grow by 2.3% while total imports fell by 5.1%, leaving the country with a trade surplus of $5.8 billion.
Continue reading the article on Wolf Street