Shares plunged 20% on the spot, and are down 44% in nine months
The shares of CIMIC, Australia's largest construction company, plunged 20% on Thursday to a four-year low, wiping AU$2.2 billion (US$1.5 billion) off its market value, following news that the company was abandoning its Middle Eastern operations with the sale of its stake in BIC Contracting (BICC). The firm expects to suffer a AU$1.8 billion ($1.23 billion) charge-off after failing to recover debts owed for projects built (or in some cases, barely built at all) at the tail end of Dubai's property bubble.
CIMIC's stock has plunged 44% since April, when the Hong Kong-based research group, GMT, had released a report that accused the company of using reverse factoring agreements with banks and financial institutions to create the illusion of cash flow, reduce the appearance of debt, and lower its leverage ratios: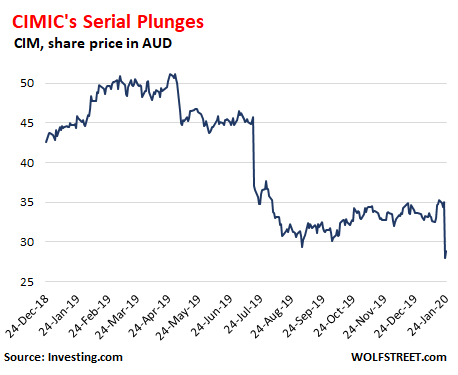 CIMIC (formerly known as Leighton Holdings before being acquired by Spain's Grupo ACS) builds many of Australia's biggest infrastructure projects, including Melbourne's $6.7 billion West Gate Tunnel and Sydney's Metro City. It is also the world's largest contract miner. The company is majority owned by German construction giant Hochtief, which itself is majority owned by ACS, the world's seventh largest construction and services company (by sales), following its acquisition of the German firm in 2011.
Continue reading the article on Wolf Street