GM shifts even more production to Mexico (even as its US sales fall). But Ford's imports from Mexico plunge. FCA's, Audi's, Nissan's down too.
Hit by the global swoon in auto sales, Mexico's exports of cars and trucks to the rest of the world fell by 3.4%, to 3.3 million units in 2019, the first annual decline since 2009. Exports to Europe plunged.
The U.S. imports eight out of 10 cars and trucks that are assembled in Mexico. Over the first nine months of 2019, auto imports from Mexico grew at 8% year-over-year. But in Q4, imports suddenly plunged 11%, according to data from the Mexican automotive industry association AMIA (released by the National Institute of Statistics and Geography INEGI). In December alone, auto imports tumbled 16.7%. The year-end swoon slashed year-total growth of imports from Mexico to just 2.9%, the smallest increase in over a decade. In 2019, the US imported 2.64 million vehicles from Mexico: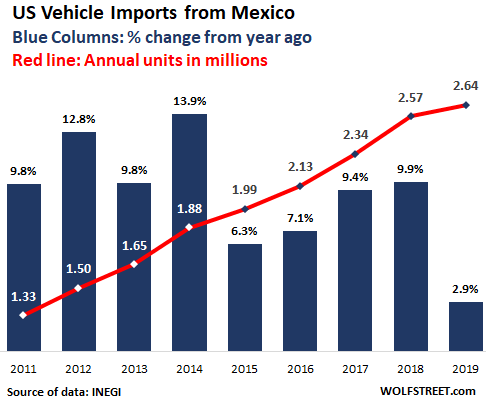 The multi-year surge of vehicles imported from Mexico into the US occurred even as new-vehicle sales in the US have fallen for three years, including 1.2% to 11.1 million vehicles in 2019, the lowest since 2014, and below where they'd been in 2000. This increased the share of Mexico-built vehicles in 2019 to a record 15.5% of total US sales, up from a share of 10.5% in 2013.
Mexico's auto industry is worried. Over the past decade-and-a-half, it has enjoyed the benefits of non-stop growth, largely based on exports to the US. Between 2011 and 2018 the total number of vehicles sent to the U.S. from Mexican assembly plants surged by 93%, rising every single year, sometimes by double-digit percentages, including 13.9% in 2014. Even in 2015, the worst year until this year, the total imports still grew by 6.3%.
These increases happened even as the U.S. car market has been declining for the past three yeas. But now the impact is being felt south of the border.
Continue reading the article on Wolf Street