Remittances to Mexico is a $36-billion-a-year business
Remittances from workers of Mexican descent based mostly in the US, but also in other countries, are a lifeline for Mexico's economy, accounting for almost 3% of GDP. Millions of people depend on relatives working in the U.S. In some Mexican states, they can represent as much as 10% of total revenues. Most of that money gets spent very quickly in the Mexican economy, often on rents or building costs.
This year, Mexico is on target to receive about $36 billion in remittances, an increase of around 7% on the previous record high of $33.4 billion in 2018. To put that figure into perspective, it's more than the $29.3 billion in revenues that state-owned oil company, Pemex, obtained from its exports of crude oil and other hydrocarbon products in 2018, and is also more than the $30.7 billion Mexico received in foreign direct investment.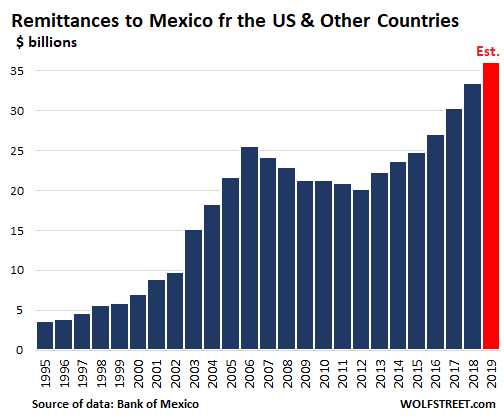 Mexico is the third largest recipient of remittances worldwide, behind India ($82 billion forecast for this year) and China ($70 billion), both with populations more than ten times larger than Mexico's. This year, remittances are nearly ten times larger than they were in 1995. So $36 billion a year is big business for the money transfer companies, and everyone wants to get a slice of it.
Now Mexico's government has publicly lambasted a number of financial companies for overcharging on "remittances" made by workers of Mexican descent based mostly in the US to individuals in Mexico. And it piled pressure on banks to lower the charges or to remove them altogether.
The average commission for sending remittances from the United States to Mexico is $9.22, the fifth highest in Latin American (after Colombia, the Dominican Republic, Costa Rica and Cuba), according to the the World Bank. The problem is not just the upfront fees the firms charge but also the delusive exchange rates they bake into their transfer calculator.
The two worst offenders when it comes to fee gouging, according to Mexico's consumer protection agency Profeco, are PayPal Holdings Inc.'s Xoom and Western Union Co. For instance, for a money order of $300 from Chicago the two firms charge between $5-$8 and use exchange rates that are sharply lower than any of their competitors.
Continue reading the article on Wolf Street