Banks are being pushed to lend with the same reckless abandon
İşbank, one of Turkey's largest private banks, has warned that the non-performing loans (NPLs) in its portfolio could reach 7.5% of its total loan book by the end of this year, up from a previous estimate of 6%.
Deputy CEO Senar Akkuş, during a recent earnings call, blamed weak demand for new loans as one of the main reasons behind the increase in the bank's NPLs, since weaker credit growth renders the portion of soured loans relatively larger when compared to total loans.
Bad loans in Turkey have almost doubled since last year's currency and financial crisis lopped off roughly a third of the Turkish lira's value, making repayment of loans denominated in dollars or other foreign currencies much more difficult. By the peak of the crisis, foreign currency loans accounted for a staggering 40% of the country's banking sector's total assets.
Many of the delinquent loans have since been restructured. At the beginning of this year, after pressure from President Recep Tayyip Erdogan, state-owned banks gave struggling bank customers and small businesses an offer most of them could not refuse: to consolidate their debts at one of the state lenders, which then paid off the money they owed their respective banks. This effectively shifted consumer and small-business debts, particularly non-performing debts, from banks to state entities, which become a form of "bad bank."
Despite all the assistance provided by Turkey's state-owned bad banks, the NPL ratio of Turkey's regular banks reached 5% in September for the first time since 2010. Through mid-2018, before the crisis was beginning to bite, the NPL ratio was mostly around 2.8%. It is expected to rise to 6.3% by the end of this year, according to Turkey's banking watchdog, the BDDK (chart via CEIC):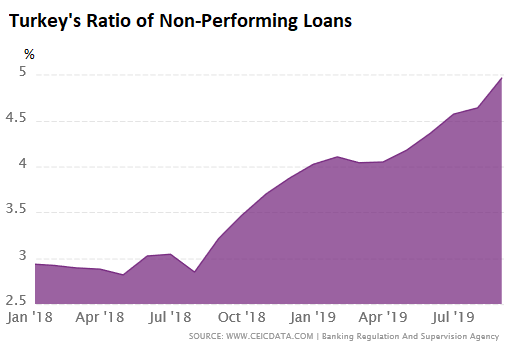 In September, the BDDK forced banks to take losses on $8 billion of bad loans and set aside loss reserves — a move that some of the larger banks, saddled with some $20 billion in loans that construction and energy companies could no longer service, had heretofore resisted since it would mean acknowledging the bad debts as losses on their books.
Continue reading the article on Wolf Street