Not just exports and manufacturing – but services stall.
In the third quarter of 2019, Mexico notched up its first year-over-year decline in GDP since the final quarter of 2009, when it was in the midst of a sharp recession brought on by the Financial Crisis. According to a preliminary estimate published by Mexico's statistical institute INEGI, in the third quarter, the economy shrank 0.4% compared with the same quarter a year earlier.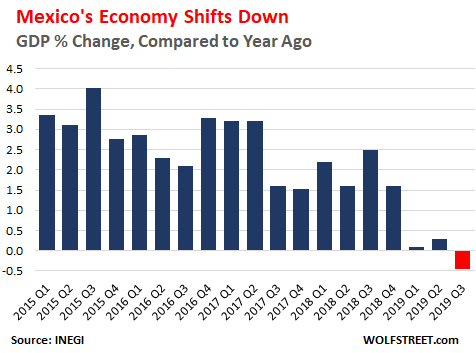 On a quarter-to-quarter basis, GDP in Q3 ticked up a minuscule 0.1% from the weak second quarter (0% growth) after an even weaker first quarter that had booked a 0.3% decline. That tiny uptick in Q3 and the 0% growth in Q2, following the 0.3% decline in Q1, were enough to avert a "technical recession," defined as two consecutive quarters of negative growth. But it wasn't enough to pull GDP in Q3 up to where it had been last year — hence the first year-over-year decline since 2009.
Services, which account for 60% of Mexico's GDP, stagnated with no growth on a quarter-by quarter or year-over-year basis. Manufacturing contracted by 0.1% quarter-by-quarter and 1.8% year-over-year. But agricultural production grew by 3.5% on a quarterly basis and by 5.3% year-over-year.
After successive quarters of managing to weather the storm generated by the U.S.-China trade war and the slowing global economy, exports in Mexico fell by 1.3% in September compared to a year earlier.
The worst affected sector was oil exports, where exports tumbled 29% year-on-year. But this is probably the result of President Andres Manuel Lopez Obrador's strategy of refocusing Mexico's state-owned, massively indebted oil behemoth Pemex's output toward the domestic market as oil imports also fell year-on-year during the same month, by 17%.
Continue reading the article on Wolf Street