But Mexican exports to other countries plunge, tripped up by global auto slowdown.
Automakers continue to shift their production base from the U.S. to Mexico, where labor costs pale in comparison with those in the U.S., despite growing opposition from U.S. auto workers and their unions. U.S. imports of new vehicles from Mexico surged by 8% in the first three quarters of 2019, according to the auto manufacturers association AIMA, released by Mexico's National Institute of Statistics and Geography (INEGI). This surge has occurred even as total deliveries of vehicles to end-users in the US fell by 1.6%.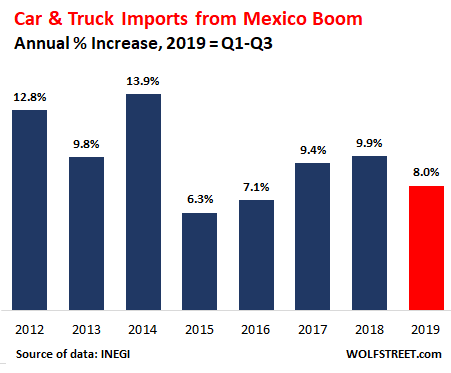 Between January and September 2019, 2.03 million new vehicles were dispatched from assembly plants in Mexico to the U.S. market, 158,000 more than during the first three quarters of 2018. In the last eight years, auto imports from Mexico have almost doubled, from 1.3 million in 2011 to 2.57 million last year, at annual growth rates of between 6.3% and 13.9%. Barring any major supply chain hiccups, the U.S. is on track to import over 2.7 million new vehicles from Mexico this year.
The latest figures cement Mexico's position as number one exporter of automobiles to the US, ahead of Canada in second place. According to AIMA, 16% of the 12.7 million cars and other light vehicles delivered in the U.S. in the first three quarters of 2019 were assembled in Mexico.
Continue reading the article on Wolf Street