Investment in the auto sector grinds to a halt
Production of vehicles in the UK plunged 20% in the first half of 2019, compared to the same period last year, as the fallout from sharply declining demand in key export markets such as Europe and China as well as fears of a no-deal Brexit took a heavy toll on the sector, according to the Society of Motor Manufacturers and Traders (SMMT). Engine manufacturing dropped 10% during the same period. And commercial vehicle production, until recently a rare silver lining for the embattled sector, collapsed 57% in June year-over-year, dragging down the first half by 15%.
Britain's car industry has now racked up 13 straight months of declining vehicle production and ten straight months of declining engine production. In 2018, car output fell 9.1% to 1.52 million units, a five-year low for the sector. But the way things are going, 2019 is likely to be a lot worse. This chart (courtesy of SMMT) depicts rolling-12-month car production totals: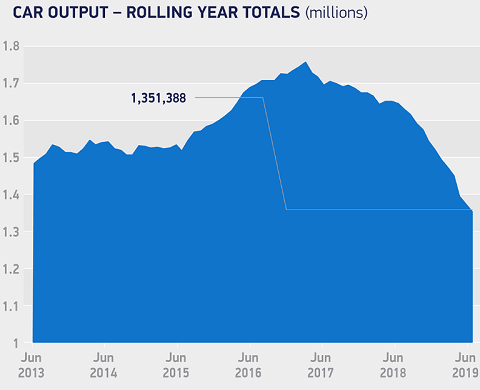 Rolling-year total production — the total amount produced over the previous twelve-month period — hit a post-crisis peak of around 1.75 million units in mid-2016, just after the Brexit referendum. Since then, rolling year totals have fallen 23% to 1.35 million last month, down by around 400,000 units from the 2016 high. The last time it was this low was in 2012.
Continue reading the article on Wolf Street