Spain's Big Five banks (already down from the Big Six) could soon be four.
The ECB's NIRP forever policy is crushing Eurozone banks' ability to turn a profit, warned the CEO of Bankia, José Sevilla, on Monday. "It is clear that the current rate scenario is hurting the profitability of the banking business," he said. "We think low rates are good and perhaps even desirable. But the same cannot be said of negative interest rates since they destroy banks' profitability equation. Sustained over time — and we have been negative for five or six years now — they hinder and penalize the profitability of Spanish and European banks."
In February last year, the formerly bailed-out lender launched an ambitious three-year plan (2018-2020) that included an earnings target of €1.3 billion for the third year. By this Monday, that plan was already dashed after the bank unveiled half-year profits that were down 22% year-over-year, prompting Sevilla to admit that the lender will not come even close to achieving its €1.3 billion target for 2020.
Over the last decade, as rates have gone from low to zero, to below zero, the shares of Spanish and European banks have been crushed, re-crushed and, for good measure, re-crushed again. Over the twelve years since May 2007, when Europe's seemingly interminable banking crisis began, the Stoxx 600 bank index has plunged 75%, and is now back where it first had been in October 1995: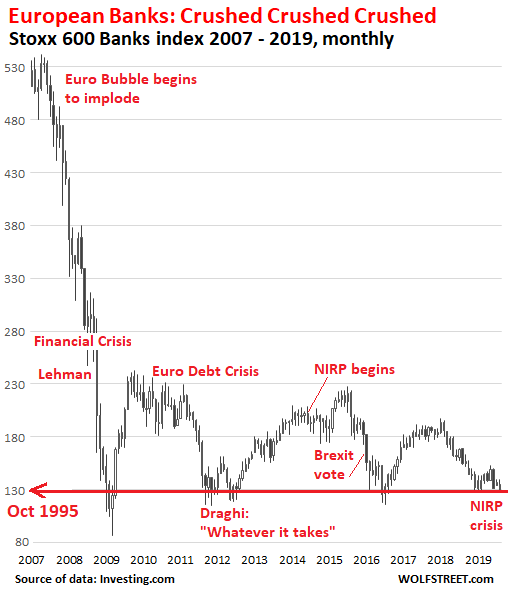 There are plenty of reasons for this spectacular decline, including the 2008 Financial Crisis, the Euro sovereign debt crisis that quickly followed, and the huge piles of non-performing loans that both of these crises left festering on many banks' balance sheets. There have also been other aggravating factors such as Brexit and Italy's ongoing banking crisis, which have further decimated investor confidence in the sector.
Continue reading the article on Wolf Street