Just when European banks need to inspire confidence more than ever.
European bank stocks continue to get hammered near multi-decade lows by a slew of problems, including the ECB's monetary policies, particularly its negative interest-rate policy (NIRP), festering nonperforming loans, and a well-deserved lack of confidence by investors. This was just exacerbated by a scathing new report from the European Court of Auditors (ECA) highlighting a litany of problems and shortcomings with the European Banking Authority's latest stress test. Among other things, the test ignored some of the most common factors that cause a bank to fail, excluded many of Europe's most fragile banks, and used simulations that were a lot more benign than the last financial crisis.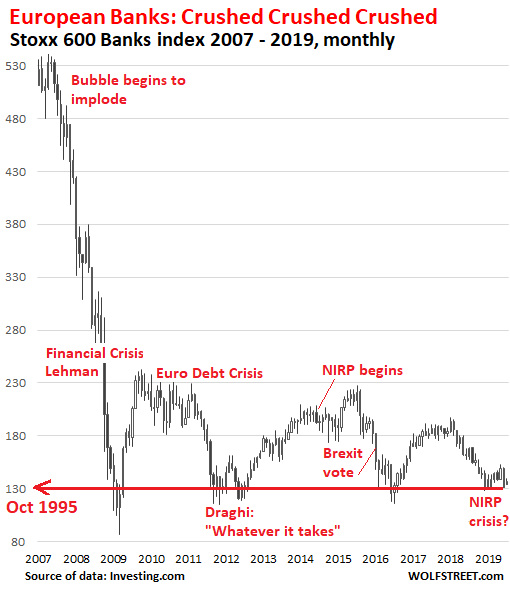 Banking stress tests are supposed to gauge the resilience of a banking system by imposing a hypothetical shock — or "adverse stress scenario" — on a large share of the system's banks. The problem in Europe is that the European Banking Authority's stress tests have tended to ignore, rather than identify, many of the worst stress points in the banking system, which is probably why many of the Continent's worst banking failures, including Bankia BFA, Dexia and Banco Popular, have happened shortly after the banks in question had passed a stress test.
Unlike its counterparts in the UK, the US and Japan, the European Banking Authority (EBA) does not itself calculate the impacts on banks of the adverse scenario; it leaves that up to the banks themselves. It does not even corroborate the information provided or conduct on-site inspections.
This is just one of the many problems the Court of Auditors has identified with Europe's latest stress test. Here are the other main ones…
Continue reading on Wolf Street